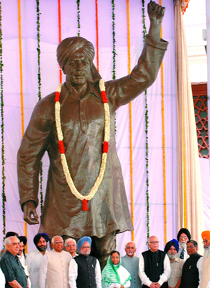 A statue of Bhagat Singh was unveiled at Parliament House, in New Delhi. Bhagat Singh made a grand reentry into the Indian Parliament this morning. Almost 80 years after he dropped the bomb in the Central Assembly Hall to "make the deaf hear," the martyr came home to a warm and well-deserved welcome.
Heartening it was to see that he looked tall and turbaned, and every inch himself. The visit was, however, different from his last when, on April 8, 1929, he stormed Parliament to accomplish a revolutionary mission. At that time, he was sporting a hat to conceal his identity.
But today when President Pratibha Patil unveiled Bhagat Singh's statue in courtyard number 5, his appearance was in consistence with his cultural identity. The turban and the smile were both in place.
"This, for us, is a historic moment that marks grand repetition of history after 80 years when Bhagat Singh first entered Parliament. We would have loved to see this day arrive earlier than 61 years of freedom. But that does not take away from it the happiness we feel." said Kiranjit Singh, son of Bhagat's brother Kultar Singh.

Also present were martyr's nephews Abhay Sandhu and Zorawar Singh and his niece Verinder Sandhu, who has recently chronicled Bhagat's life in her book, "Yugdrishta Bhagat Singh aur unke Mrityunjaya Purkhe." "This day is precious for the nation," Verinder told The Tribune, especially thanking sports minister M.S. Gill for the installation of the statue.
Ram Sutar, the creator of 18-foot bronze statue of Bhagat Singh, the sculptor behind the gigantic Mahatma Gandhi statue in Parliament complex and the Ranjit Singh statue in Amritsar's Ram Bagh, Sutar could afford to let art do the talking. He was happy that his new creation would now share space with Indira Gandhi and Subhash Chandra Bose.

Interesting also is the fact that Bhagat's statue is one among the only four to be donated by the Lok Sabha Secretariat; the other three being of Rabindra Nath Tagore, Vivekananda, and Aurbindo Ghosh.