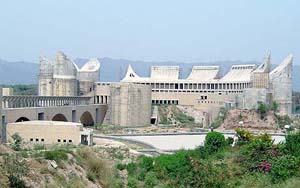 A heritage complex dedicated to Anandpur Sahib, the place where the Sikh religion was born 308 years ago in 1699, would be completed by March 2009.
Punjab Chief Minister Parkash Singh Badal Tuesday set the deadline for completion of the Khalsa heritage complex at Anandpur Sahib, 90 km from here. He said the complex would be dedicated to the people on the occasion of Hola Mohalla - a festival to celebrate the valour of Sikhs.
The Rs.2.24 billion project will showcase the evolution of the Sikh religion. It is aimed at giving correct information to the younger generation of Sikhs in India and abroad.
The complex will house rare manuscripts, books, paintings and other artefacts to show the evolution of the religion.
The Punjab government has also announced that it will honour Moshe Safdie, an Israeli architect who had been involved in designing and implementing the project.
The project was announced in April 1999 on the occasion of the tercentenary of the of the Sikh religion.
An amount of Rs.1.14 billion has already been spent on the project, which has been delayed beyond its five-year deadline.
Badal said that the remaining amount of Rs.1.1 billion would be made available for the project for its early completion.