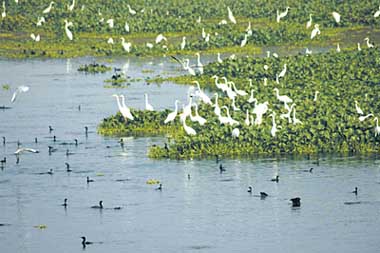 Harike wetland in Punjab's Taran Taran District is the second largest bird sanctuary of India. It's home to rare varieties of avifauna arriving here from different parts of Europe and northern Asia for stay during a major part of the year. About 60 kilometres from Amritsar, it is one of the largest freshwater wetlands in north India and is spread over 93 square miles. Of the total expanse of the wetland area of Harike Pattan, 26 square miles is open water.

Harike Pattan presents an inspirational example of nature conservation by authorities and non-government organisations. A visit to Harike Pattan bird sanctuary showcases how the golden wealth of nature exists here in its divine glory, untainted and undisturbed. And, why there is need for it to remain like that.

A few non-government agencies have now come forward for the conservation of some precious ecologically important habitats and spread public awareness among locals here.

During autumn, spring and winter, Harike Pattan turns a shelter for hundreds of species of birds. It is strategically situated for birds migrating to and from central Asia and Siberia.

It is one of the ancient confluences where the rivers Satluj and Beas converge. It's a quite sacred place. The confluence has been developed among the world's top 10 centauries. It is one of the largest wetlands of India and for centuries it has been home to migratory birds. The people of Punjab are familiar with these birds, as they are the best friends of children.

The sanctuary came into existence with the construction of a barrage at the confluence of the river Beas and Satluj for water storage and providing irrigation and drinking water. In 1978, the Punjab government declared the water-based body a wildlife sanctuary.