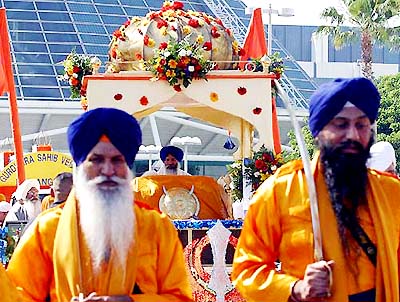 Sikh pilgrims from India, who are on a visit to Pakistan to mark the festival of Baisakhi, have asked the Pakistan Government to ease visa restrictions.
The Pakistan Government should relax its visa policies so that more visitors from India could visit without hindrance, the Daily Times quoted them as saying on arrival।
The pilgrims said the followers of Baba Guru Nanak felt that it was the right time to forget past differences and promote peace, friendship and harmony between the two peoples.
"We have to promote love, peace and humanity in the region and this is only possible if Sikhs and Pakistanis commit themselves to live in peace। The fact that Pakistanis take care of our holy places is like loving us. We love Pakistanis and love Pakistan," Gurdeep Sing from Amritsar said.
Another pilgrim Ramesh Chander Sachdev said, "I am visiting Pakistan for the first time. I was born in Faisalabad 63 years ago and my family left our home when I was three years old. I have wanted to visit my home, but I do not have a visa for Faisalabad district. I appeal to the Pakistani Government to relax visa policies so that people like me can visit their birth places."