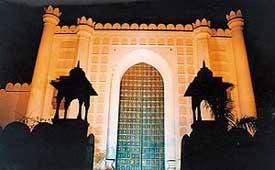 It is official. The door of the Fort at Ramgarh is the tallest door in the country higher than even the gate of Fatehpur Sikri near Agra. The latest edition of the Limca Book of Records which is the Indian equivalent to the Guinness Book of Records, lists the entry of the "tallest door" at page number 204.
The wooden door guarding the 350-year-old Ramgarh Fort near Chandigarh measures 37ft in height and 14½ ft in width.

The "Buland Darwaza" at Fatehpur Sikri stands 120 ft tall, including the steps and the constructed area but the actual door is only 23 ft. The door at the Bathinda fort in Punjab is 26 feet high.

Interestingly, the doors of forts and palaces were kept exceptionally tall in previous centuries so that the rajas sitting on elephants could enter without dismounting. Hence they were often called hathi deorhi.

The door of the fort is a replica of the original door, which was built 300 years back by the Chandel Rajput dynasty but broken during the 1857 mutiny. The replica was reconstructed in late 1980, by Kanwar Mohan Singh, a scion of the former ruling family of Ramgarh, is now a part of the premises converted into a heritage hotel. Each of its two panels weighs 21 quintals despite which, it can be easily closed and opened. About 2000 man-days were spent in putting the new door together with 343 custom-made copper plates and 343 spikes on it.

Spikes were used on the doors in olden days so that these could not be broken by an attacking army with the help of elephants banging their heads on it.