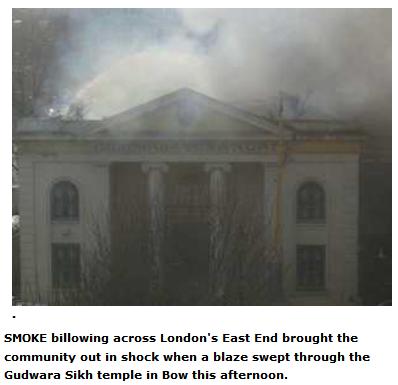 One of London's most important gurdwara, housing priceless religious books, has been gutted in a suspected racist attack in Britain, a news report said on Tuesday. Eye-witnesses on Tuesday said that a man, who entered the Gurdwara Sikh Sangat in East London, managed to escape just before flames were first seen. A group of women, who had spotted the intruder, tried to put out the raging flames in one of the holiest parts of the gurdwara, which was built at Bow in 1979.

Most of the gurdwara's roof collapsed and worshipers fear all but one of its eight holy books have been destroyed, the 'Evening Standard' newspaper said on Tuesday. Eye-witnesses described the suspected arsonist as being black or mixed-race. A worshiper said he had noticed racist graffiti on one of the gurdwara's outer walls in the past few weeks.

A criminal investigation has been launched and police and fire investigators are treating the blaze as suspicious. The building, which dates back to 1854 was formerly a synagogue and before that a chapel. The London Fire Brigade confirmed that 75 per cent of the building and the roof had been damaged by the fire.

"Police are treating this incident as suspicious," a Metropolitan police spokesman was quoted as saying by the British daily.

More than 50 firefighters battled the flame for almost eight hours after being called just after 2 p.m. yesterday, the report said.