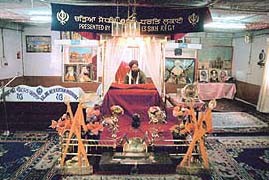 Built by Buddhist Lamas nearly five centuries ago to commemorate the visit of Guru Nanak, the founder of the Sikh religion, to Ladakh, the Gurudwara Pathar Sahib is visited by Hindu and Sikh devotees, besides tourists. Although the Ladakh's culture and religion is deeply influenced by Buddhism, the existence of Gurudwara 'Pathar Sahib' adds to the region's religious history and identity.
Legend has it that many centuries ago a demon had terrorised the people of Leh. Baba Guru Nanak, who visited the region around 1516 A.D, came to know about the problem and decided to bless them with his sermons. Locals welcomed him with open arms. His growing popularity angered the demon and in a fit of rage, he decided to kill Guru Nanak with sa large boulder. The boulder, however, turned into wax as soon as it touched Guru Nanak.
"Thinking the Sikh Guru must have got killed by the boulder, the demon appeared only to be shocked to find Guru Nanak Dev meditating. He pushed the boulder with his right foot, but as it had already melted into wax, his foot got embedded in it. Realising, Guru's enormous powers, the demon fell at his feet and sought forgiveness," said Rajender Singh, the caretaker of the gurudwara. Since then, resident Lamas revere the boulder and offer prayers to it. In 1948, the Gurudwara Pathar Sahib's maintenance was taken over by the Army.
The region has a sizeable Sikh population and devotees visit the site to have their wishes fulfilled.
"By the grace of God, my wish has been fulfilled. My younger brother, whose wish has also been fulfilled, has helped me take part in the `Akhand Path', a continuous reading of Guru Granth Sahib (the religious textbook of Sikhs). We have a great belief in Gurudwara Pathar Sahib," said Harjinder Singh, a devotee from Punjab.
Organize your Gurudwara Tours through
www.sikhtourism.com